Fish with Caper Butter and Olivia's Croutons
Skill Level: Easy
Cuisine: American
Prep Time:
Cook Time:
Total Time: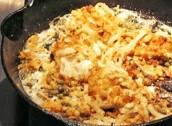 This recipe is so quick and easy. You can make it in 15 minutes, barely time to make rice! Serve with a nice green salad to use the remainder of your croutons!
Ingredients
¾-1 pound fish of choice. I used Haddock and it was perfect.
1-1 ½ cups Olivia's Butter & Garlic Croutons (or favorite flavor), lightly crushed
½ cup diced onion
1 clove crushed garlic
½ lemon
2 Tbsp capers
2 Tbsp Olive Oil
2 Tbsp Butter
1 Tbsp Mayonnaise
Salt and Pepper to taste
Instructions
Heat Olive oil in a heavy skillet over medium heat; add onion and garlic and sauté slightly.
Clean and dry fish and brush with mayonnaise. Cover pieces of fish with crushed croutons and place in skillet to brown with onions and garlic.
Turn fish when underside in nicely browned.
Place sautéed onions on top of fish. If you are using thick filets of fish you may want to cover for a few minutes to cook through.
Once fish is browned on both sides add butter, capers, lemon juice and any remaining croutons and cook for a few more minutes.
Check out these customer favorite recipes