French Onion Soup with Olivia's Butter & Garlic Croutons 
Skill Level: Beginner
Cuisine: French American
Prep Time:
Cook Time:
Total Time: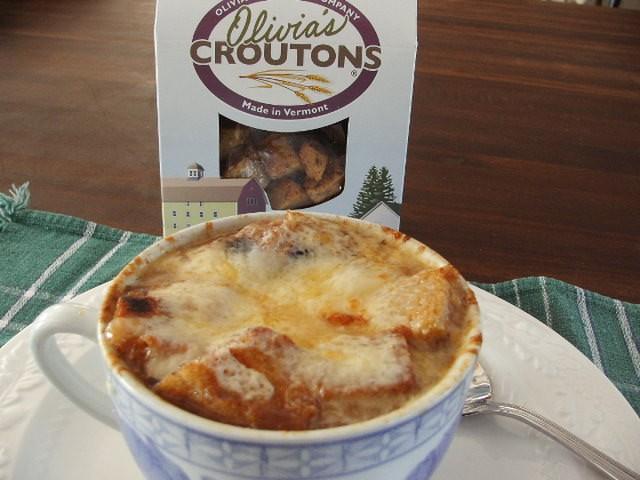 Ingredients
4 Tbsp butter
4 cups assorted white, yellow, red onions, shallots, sliced
2 garlic cloves, chopped
2 bay leaves
1 tsp thyme
Salt and freshly ground black pepper
1/2 cup red wine
1 Tbsp Worcestershire sauce
1 Tbsp Balsamic vinegar
2 quarts beef broth
1/2 pound grated Gruyere, Parmesan, or cheese of your choice
Olivia's Butter & Garlic Croutons
Instructions
Melt the stick of butter in a large pot over medium heat. Add the onions, garlic, herbs, salt and pepper.  
Cook until the onions are very soft and caramelized, about 25 minutes.
Add the wine, Worcestershire and Balsamic vinegar, bring to a boil, reduce the heat and simmer until the liquid has evaporated and the onions are thick.
Remove the bay leaves. Turn the heat down to medium low and add the beef broth, bring the soup back to a simmer, and cook for 20 minutes. S
Season with salt and pepper if desired.
When you're ready to eat, preheat the broiler. Ladle the soup into ovenproof bowls.  Arrange 5 or 6 croutons on top of the soup and cover with a handful of cheese.  
Place bowls on a sheet pan on middle rack of the oven and broil until cheese is brown and bubbling about 5 minutes.
Remove from oven and let cool slightly before eating. Enjoy!
Check out these customer favorite recipes