Rack of Lamb
Skill Level: Intermediate
Cuisine: American
Prep Time:
Cook Time:
Total Time: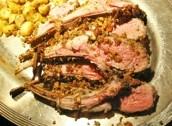 Ingredients
1, 5-7lb bone rack of lamb
1 cup Olivia's Butter & Garlic Croutons, lightly crushed
5 cloves minced garlic
2 Tbsp fresh rosemary, chopped
1 Pinch of salt Pepper to taste
2 Tbsp Olive Oil
1-2 Tbsp Dijon mustard
Instructions
Preheat oven to 450 degrees.
Toss croutons, garlic and herbs in a medium sized container.
Set aside. Clean lamb, removing fat and meat from bone ends, season with salt and pepper.
Heat Olive Oil in oven proof skillet over high heat.
Sear lamb for 1 or 2 minutes on each side.
Brush seared lamb with mustard, roll in prepared crouton mixture above.
Return to skillet and bake for 10-20 minutes depending on desired doneness and size of rack.
Cover with foil and let meat rest for 5 minutes. Carve into ribs and serve.
Check out these customer favorite recipes