Can't wait for Thanksgiving, Turkey Meatloaf
Skill Level: Easy
Cuisine: American
Prep Time:
Cook Time:
Total Time: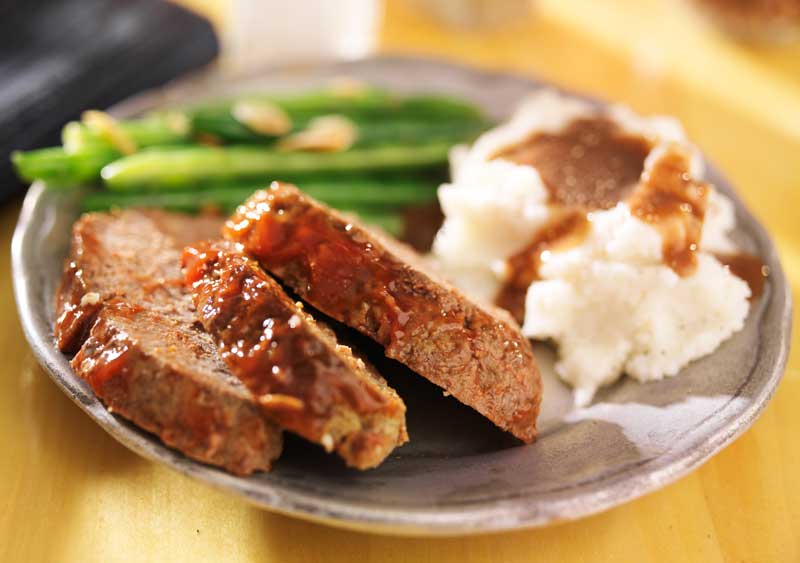 This is a yummy, moist meatloaf that reminds me of the flavors of Thanksgiving, a combination of turkey and stuffing wrapped into one. Enjoy!
If you cannot find lean pork sausage (the commercially prepared varieties have too much fat) you can make your own by mixing 1 pound lean ground pork, 2 tsp brown sugar and 2 tsp poultry seasoning, salt and pepper.
Ingredients
2 cups coarsely crushed Olivia's Traditional Stuffing
2 cups chicken broth (reserve 1 cup for gravy)
1 ½ cups chopped onion,
½ large, (reserve ½ cup for gravy)
1 cup chopped celery, 2 stalks
1 pound lean ground turkey
1 pound lean pork breakfast sausage* (reserve ¼ lb for gravy)
1 tsp poultry seasoning
2 eggs
2 Tbsp flour for gravy
Salt and Black Pepper to taste
Instructions
Preheat oven to 375 degrees.
In a large bowl mix stuffing and 1 cup chicken broth. While stuffing is soaking, prepare onion, celery and add to stuffing mix along with ground turkey and ¾ pound lean pork sausage, eggs, poultry seasoning, salt and pepper.
Combine ingredients, but do not over-mix.
Place meatloaf mixture into a large loaf pan or hand form into a loaf shape on a cookie sheet.
Bake for a total of 60 minutes, or until center of meatloaf reaches a temperature of 155 degrees.
Prepare gravy in a 12" fry pan over medium heat.
Sauté remaining ¼ lb of sausage and ½ cup of onion until tender. If your sausage is very lean you will need to add 1 Tbsp butter. Add 2 Tbsp flour and stir until combined. Add 1 cup of chicken broth and simmer stirring frequently until gravy has thickened.
Adjust thickness by adding sifted flour or chicken broth if necessary.
Salt and pepper to taste.
When meatloaf has baked for about 40 minutes, add gravy to the top and finish baking, approximately 20 minutes.
Check out these customer favorite recipes