Creamy Blue Cheese Wedge Salad
Skill Level: Easy
Cuisine: American
Prep Time:
Cook Time:
Total Time: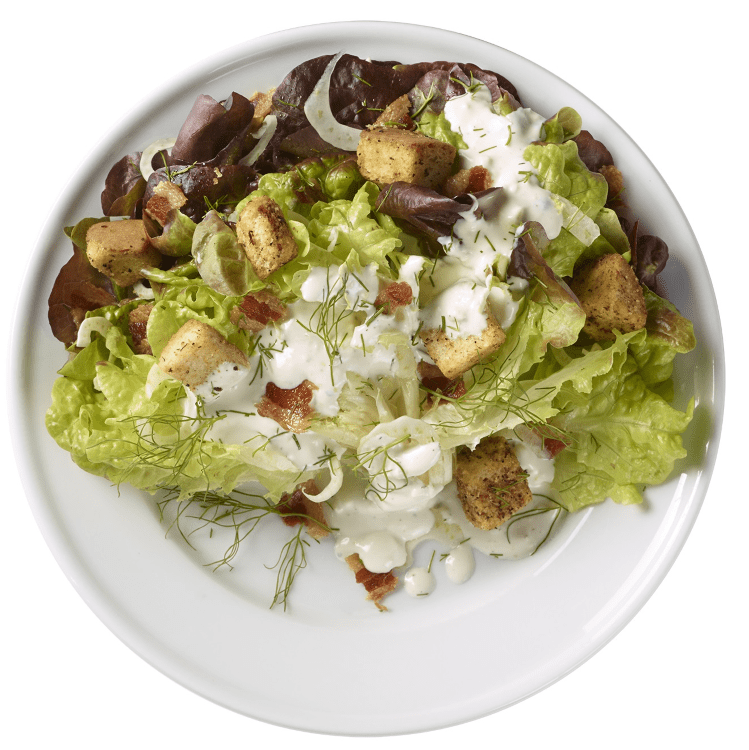 Creamy Blue Cheese Wedge Salad With Butter & Garlic Croutons
Ingredients
Head of Red Boston or Bibb lettuce
Blue Cheese Dressing
Bacon bits
Shaved fennel
Minced fennel frond
Fresh cracked black pepper
Olivia's Butter & Garlic Croutons
Instructions
Tear a head of red Boston or Bibb lettuce in half and arrange on a plate.
Mix dressing and spoon over lettuce.
Sprinkle with bits of bacon, shaved fennel, minced fennel fronds, and fresh cracked black pepper.
Top with Olivia's Butter & Garlic Croutons.
Blue Cheese Dressing:
½ cup crumbled good quality blue, Roquefort, or Gorgonzola cheese
1/3 cup good quality mayonnaise
1/3 cup sour cream
¼ cup milk
1 tablespoon lemon juice
1 tablespoon lemon zest
Pinch of salt and fresh ground pepper to taste
Whisk ingredients together.
Check out these customer favorite recipes