Olivia's Stuffed Pork Loin
Skill Level: Intermediate
Cuisine: American
Prep Time:
Cook Time:
Total Time: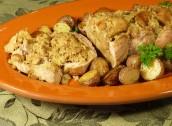 The great thing about this recipe is that almost all of our croutons and stuffing make a great filling for this recipe. I have used the Traditional, Cornbread stuffing, Butter & Garlic, Multigrain w/Garlic and Organic Garlic & Herb croutons. All of them work, each with a slightly different taste. Enjoy, this is an easy recipe that creates a special meal.
Ingredients
1 pork tenderloin
2 ½ cups of Olivia's Stuffing or Croutons, or your favorite flavor
½ cup chopped onion
½ cup chopped celery
2 Tbsp butter
1 ½ cups chicken broth
Salt & pepper to taste
2 slices of bacon
Butchers string
Instructions
Preheat oven to 350 degrees.
In a skillet melt butter, sauté onions and celery until clear.
Add chicken broth until warmed, add croutons and let stand off of the heat until liquid is absorbed into the croutons.
Rinse tenderloin and cut a slice down the middle on top (like a New England style hot dog roll). Be careful not to cut all of the way through. Open the meat at the slit and attempt to flatten. Make another cut down the middle of each half, without cutting through so that it looks like you have 4 quarters of a circle if you look on from the end of your piece of meat.
Pound the meat to make it somewhat flattened.
Season with salt and pepper. Lay flat in a greased baking pan, like a lasagna pan.
Add warm stuffing mixture to the pounded pork. Wrap pork around stuffing and with butcher's string, tie meat so that it looks like a fat roast.
Place raw bacon on top of the meat to prevent drying while baking. If this is more than you want to deal with, you can just cut the slice down the middle top and over fill the crevice with stuffing. It's not as pretty, but tastes just as good.
Bake at 350 degrees for about 40 minutes. Stuffing should reach a temperature of 160 degrees.
Check out these customer favorite recipes