Classic Tossed Salad with Buttermilk Ranch Dressing
Skill Level: Easy
Cuisine: American
Prep Time:
Cook Time:
Total Time: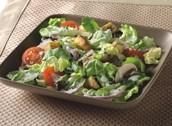 Ingredients
Choose assorted greens with different colors and textures.
Add veggies like onion, mushrooms, cucumbers and tomatoes.
Try extras like hard boiled egg, bacon or nuts.
Instructions
Mix dressing and let rest to allow flavors to meld.
Toss greens with dressing.
Top with Olivia's Butter & Garlic Croutons and toss again.
Buttermilk Ranch Dressing
½ cup Crème Fraîche (or sour cream for a more tart dressing)
½ cup mayonnaise
¾ cup buttermilk
1 ½ tablespoons chopped parsley
1 ½ tablespoons chopped chives
¼ teaspoon salt fresh ground pepper
Check out these customer favorite recipes